Behind every piece of GUINNOT jewellery is a process that starts with a spark of an idea, and ends with you feeling like a million dollars the first time you wear it.
Let us take you on a journey through the unique design and manufacturing process of our fine jewellery collections.
The magic begins with a simple pencil drawing, capturing those first ideas about how to turn gold and diamonds into a piece of everyday luxury.
From the offset, we keep in mind that our jewellery should be fit to accompany you on all of life's adventures – from a cocktail party, to your children's school show, to walking your dog in the woods, and everything in between!
Once the pencil sketch has captured the essence of a piece, our designers use cutting-edge computer-aided design (CAD) to make sure every detail is perfect!
They generate 2D and 3D models that let us see each piece from every angle, so nothing is overlooked.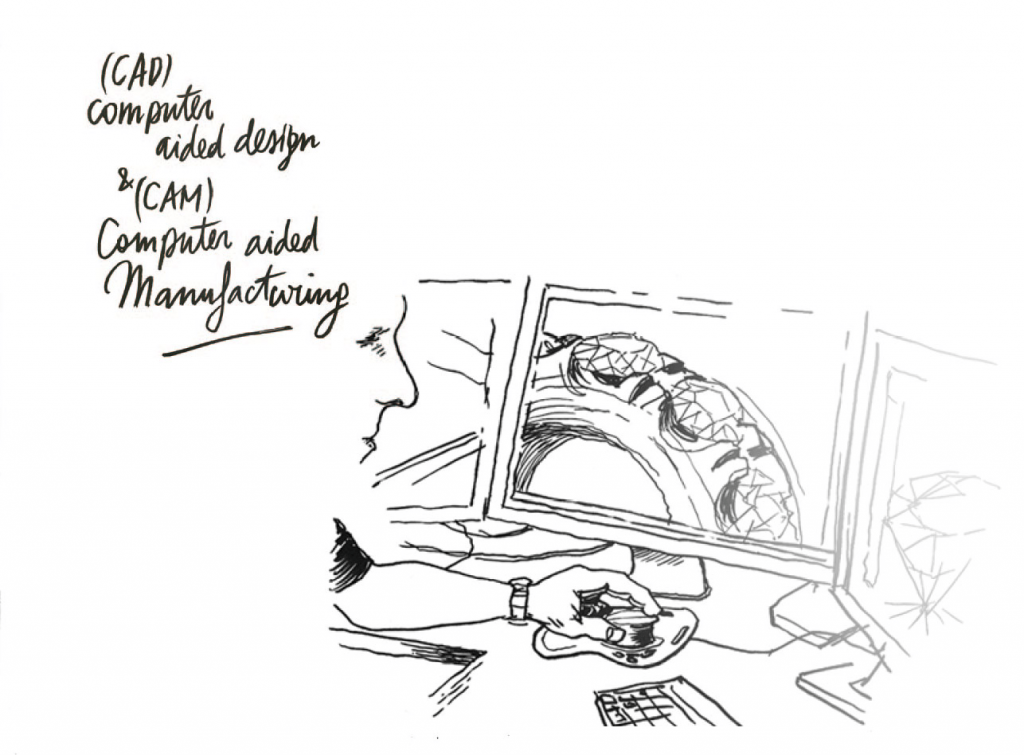 From these technical drawings, our custom-made robots work their magic to create fine jewellery that is not only beautifully and thoughtfully designed, but will also withstand the test of time.
Our process brings together the imagination and creativity of our designers and craftsmen (and women!), and the wonders of modern technology, making us better together!
We want you to look fabulous when you wear your GUINNOT jewellery … but we also want you to feel fabulous. And having a conscience as clear as our diamonds is an important part of that.
With GUINNOT, you can have peace of mind.
Whether it's diamonds, gold or any other precious material, you can be sure that your GUINNOT jewellery has been ethically made from start to finish.
Respect is part of our DNA, and we make sure that all aspects of our process are not only ethical, but also fair and environmentally sound.
We use only the finest materials in GUINNOT jewellery, including 18 k white, rose, and yellow gold, and dazzling, brilliant-cut diamonds.
In our fine jewellery collections, our gold starts out as tubes of gold, which offer unrivalled strength and quality. Unlike with casted jewellery, working with gold tubes means our gold will never have cracks or air bubbles.
We also choose our diamonds very carefully. When they arrive in our workshop, our state-of-the-art technology automatically sorts, measures and inspects each and every one. An incredible 256 parameters are checked – many more than the naked eye can see!
Once the diamonds have been inspected and have passed our strict quality controls, they are securely stored in special trays until we're ready to set them in a piece of fine jewellery.
Thanks to the internal tracking codes on each tray, we know exactly where every single diamond is at any time.
This streamlined process means we can work faster and more accurately.
Wondering how the rings in GUINNOT's fine jewellery collections take shape? From an 18 k gold tube, our five-axis milling and drilling machine cuts and shapes the ring according to our exact design specifications.
It then prepares the surface for the next step: setting the diamonds.
It's at this stage of the process that our designers' expertise and our cutting-edge technology unite to deliver the perfectly balanced aesthetic you expect from fine jewellery.
In our fine jewellery collections, each diamond is set using a patented, automated stone-setting application.
Developed in collaboration with expert craftsmen, this innovative technique ensures a handmade finish, while guaranteeing the most accurate results possible every single time.
In fact, because our stone-setting application knows the exact measurements of every diamond it places, it can adapt the setting to ensure a smooth surface – exactly as it should be in fine jewellery.
No more snagged stockings!
As each piece nears completion, we proudly engrave it with our name, GUINNOT. Curious where the name comes from?
GUINNOT has its origins in the Germanic name GUIN, or WIN, which means 'joy', and also 'friend'. These are two threads that run through everything we do.
For us, accessories like the right piece of jewellery are the little details that can make all the difference – to an outfit or even to how you feel – creating moments of joy that remind us all to appreciate beauty.
We also hope to inspire a community of GUINNOT friends who, like us, believe in quality jewellery that is ethically made, lasts a lifetime, and doesn't break the bank!
To reveal the true beauty of the materials, our automated system gently polishes each piece of fine jewellery for a flawless finish.
Thanks to state-of-the-art technology, the result is perfect every single time, even for the most delicate and detailed creations!
Your masterpiece has almost reached completion – just one more step to go!
Each piece of fine jewellery starts its journey as a twinkle in the eye of our designer and is completed under the watchful eye of one of our master craftsmen.
After an automated quality control, every detail of the piece is thoroughly inspected to make sure it's both empirically and aesthetically perfect.
Now, all that's left is for you to fall in love …
Presented in our elegant signature box, each piece comes with a certificate of authenticity that indicates the characteristics of the diamonds according to the internationally recognised GIA grading system.
While the carat depends on the piece in question, all the diamonds used in our fine jewellery collections are brilliant cut (graded 'excellent'–'very good'), graded VS–SI for clarity and G–H for colour ('near colourless').